..scroll down for english..
RURU.ZIP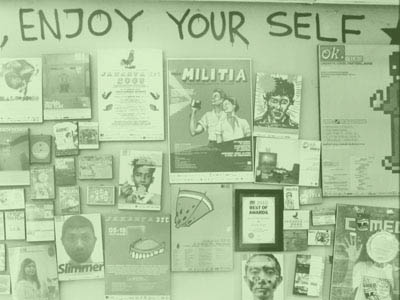 Kurator /
Curator
:
Farah Wardani
&
Ugeng T. Moetidjo
Date: 28 December 2010 - 12 January 2011
Venue: Galeri Nasional Indonesia
Opening Ceremony: 28 December 2010 (19.30)
Open Hour: 11.00 - 21.00
(Senin - Minggu, kecuali hari libur nasional / open daily, closed on public holidays)
Bekerja sama dengan Indonesian Visual Art Archive (IVAA), ruru.zip adalah pameran arsip yang merangkum dan menghadirkan presentasi pokok (highlight) sejumlah data dan memorabilia yang terkumpul selama satu dekade berjalanya ruangrupa. Kuratorial pameran dirumuskan untuk menyaring dan menstrukturkan seluruh arsip tersebut, yang secara garis besar merujuk kembali pada perkembangan visi dan gagasan ruangrupa sebagai sebuah artists' initiative yang kemudian berkembang menjadi organisasi penggerak seni dan budaya urban dalam waktu sepuluh tahun. Dengan memberi penekanan pada pembacaan aspek-aspek kultural yang menjadi wilayah kerja ruangrupa, pameran arsip ini tidak hanya akan menelusuri perjalanan ruangrupa sebagai sebuah organisasi dan laboratorium seni rupa, namun juga membaca ulang segala fenomena seni, sosial budaya dan isu-isu lainnya yang kemudian terangkum dalam tiga isu kunci yaitu: Ruang, Publik dan Pengetahuan.
In collaboration with Indonesian Visual Art Archive (IVAA), ruru.zip is an exhibition of archive summing up and presenting a number of data and memorabilia highlights, gathered in the course of a decade since this organization came to existence. The curatorial of the exhibition were formulated to filter as well as to restructure the whole body of the archive, outlining and referring back to the development of ruangrupa's main vision as an artist's initiative which meaning had been translated as an organization interested in art and urban culture activism, all in ten years time. By underlining the reading of certain cultural aspects that has fallen under its working domain, this exhibition will not only serve as a mere retrospect on ruangrupa as an art organization and laboratory, but also a total reinterpretation of artistic and socio-political phenomena, as well as other issues that could be summarized in three key-terms which are: Space, Public and Knowledge.