..scroll down for english..
HANYA MEMBERI TAK HARAP KEMBALI
(TO GIVE AND TO EXPECT NOTHING IN RETURN)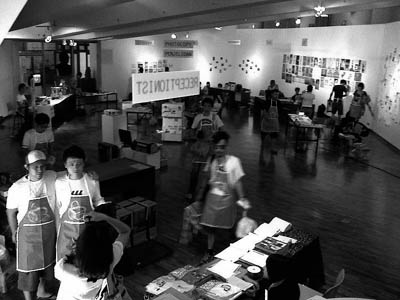 Seniman /
Artists
:
Ade Darmawan, Andi RhaRhaRha, Anggun Priambodo, Aprilia Apsari, Andang Kelana, Ardi Yunanto, Ari Dina, Ary Sendy, Bujangan Urban, Daniela Fitria, Hafiz, Haoritsa, Henry Foundation, Indra Ameng, Irwan Ahmett, Iswanto Hartono, Isrol Triono, Julia Sarisetiati, Lilia Nursita, Mahardhika Yudha, Mateus Bondan, MG Pringgotono, Mushowir Bing, oomleo, Oky Arfie, Popo, Rebecca Theodora, Reza 'Asung' Afisina, Rio Farabi, Rithmi, RM Herwibowo, Ronny Agustinus, Ricky Janitra, Skulpturenpark / KUNSTrePUBLIK, Syaiful Ardianto, Saleh Husein, Ugeng T. Moetidjo.
Date: Rabu / Wednesday, 12 January 2011 (16.00 - 19.00)
Venue: Galeri Nasional Indonesia

Dalam proyek ini, ruangrupa sebagai sebuah kolektif, terdiri dari 35 seniman yang kerap terlibat dalam berbagai proyek dan program seni rupa untuk berpameran bersama dalam sebuah rangkaian pameran keliling di dua kota. Pameran pertama bertempat di Galeri Soemardja, Bandung, pada 23 – 25 Juli 2010, dan yang kedua bertempat di Kedai Kebun Forum (KKF), Yogyakarta, pada 30 September – 2 Oktober 2010. Seluruh karya dirancang untuk bisa diperbanyak dan dibagikan secara gratis dan interaktif kepada pengunjung pameran. Karya-karya tersebut meliputi poster, kaos, buku dalam format fotocopy, foto kartu pos dan kalender, selebaran, emblem dan stiker. Pameran ini akan dihadirkan kembali sebagai acara penutupan 10 Tahun ruangrupa, dengan mengundang salah satu rekan dari Jerman, Skulpturenpark / KUNSTrePUBLIK, sebagai bintang tamu.
In this project, ruangrupa as an artistic collective, invited 35 artists that have been involved in various art projects as well as programs for a collaborative traveling exhibition series held in two cities. The first took place in Galeri Soemardja, Bandung, July 23rd-25th 2010, while the second were held in Kedai Kebun Forum (KKF), Yogyakarta, September 30th – October 2nd 2010. All works were reproducible and the audience can have it for free in an interactive way. The works came in the form of posters, t-shirts, photocopy-formatted books, postcard-formatted photographs and calendars, flyers, badges and stickers. The materials of the exhibit will be represented as the closing event of the 10 Years ruangrupa celebration, together with one of our Germany invited partners, Skulturenpark / KUNSTrePUBLIK, as guest star.