..scroll down for english..
DOKUMENTER ruangrupa: ALTERNATIVE SPACE and NETWORK
ruangrupa DOCUMENTARY: ALTERNATIVE SPACE and NETWORK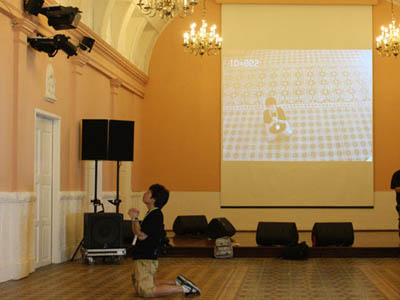 Director:
Hafiz
(Indonesia)
Date: Kamis / Thursday, 06 January 2011 (19.30)
Venue: Goethe Institut Jakarta
Sebuah dokumenter feature diproduksi untuk melengkapi perhelatan ruangrupa. Dengan durasi 60 menit, film dokumenter yang melibatkan kalangan dari lintas disiplin ini akan menelusuri perkembangan ruangrupa dan menggambarkan bagaimana dalam sepuluh tahun organisasi ini membangun jaringan dan komunitasnya. Melalui rekaman-rekaman wawancara, Alternative Space and Network berusaha melihat kembali posisi ruangrupa dalam aktivisme kesenian dan kebudayaan di Indonesia. Wawancara juga dilakukan dengan para pendiri untuk menelusuri mimpi-mimpi yang dibayangkan para seniman muda Jakarta ketika mendirikan ruangrupa.
A feature documentary is produced to complete the event held by ruangrupa. During its 60-minutes duration, the documentary explores ruangrupa's development and illustrates how in ten years, the organization had built its network and community, with various interdisciplinary background. Through interviews conducted with numerous sources, the film attempts to review the position ruangrupa holds in art and cultural activism in Indonesia. The interviews were also conducted with its founders, in order to dip into the dreams envisioned by these young artists in Jakarta when ruangrupa was founded.